Smt. Victoria Fernandes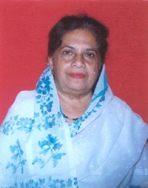 | | |
| --- | --- |
| Constituency : | 12 Santa Cruz |
| Votes Polled : | 16607 |
| Votes Received : | 6658 |
| Won By : | 40 |
| Party : | Indian National Congress |
| | |
| --- | --- |
| Constituency : | 12 Santa Cruz |
| Party : | Goa Peoples Congress Party |
| | |
| --- | --- |
| Constituency : | 12 Santa Cruz |
| Votes Polled : | 16695 |
| Votes Received : | 5971 |
| Won By : | 1306 |
| Party : | Independent |
Note : THE MEMBER HAS RESIGNED FROM HIS SEAT IN THE HOUSE ON 13TH FEBRUARY 2012 FORENOON. REFER BULLETIN PART II NO.65
Election Details
| | |
| --- | --- |
| Constituency : | 12 Santa Cruz |
| Votes Polled : | 20321 |
| Votes Received : | 7385 |
| Won By : | 1345 |
| Party : | Indian National Congress |
Personal Details
Name of Father
Late Shri Henry de Cruz
Office Contact No.
2449701
Place of Birth
Curtorim, Salcete
Marital Status
Married
Educational Qualification
S.S.C.
Permanent Address
House No. 1390 Bairo, Bondir Santa Cruz, Ilhas – Goa
Other Information
Activities
Social and cultural Activities
Helping the downtrodden masses of Goa Youth development and solving problems of women and children. Fighting for justice to the handicapped children. Conducted training camps for imparting self employment. Training youth to be social workers and to act as NGOs, helping the sick and rendering them services Headed women organisations like anganwadi, mahila mandals etc. Reading, meeting and talking to people, gardening, visiting the old, sick and destitute, acting in dramas. Active participant of Raponkars Movement, Toddy Tappers Movement and Movement against merger of Goa inMaharashtra. Ex-President, Pragati Mahila Mandal. Member, Redcross Society. Member, Konkani Bhasha Mandal –Goa. Member, Konkani Projecho Awaz. Member, Nurses Association. Member, Novem Goem Prathishtan Committee. Ex- President of Crown Club- Santa Cruz. Spearheaded agitation against the inclusion of the Panchayat areas in the Planning Development Authorities and later against the Draconian Ordinance in the year 2005. Participated in the Movement to save Goa from destruction and scrapping of the Regional Plan 2011. Spearheaded the agitation against the prevention of dumping of garbage at Bainguinim, near Old Goa where the sacred relics of St. Francis Xavier are kept. Spearheaded the agitation to prevent the St. Cruz Constituency wards from being included in the Panjim Municipality. Member of the Parents-Teachers Association of Merces English High School and St. Cruz Higher Secondary School since 1994. On the environmental front, supported several issues like the Movement against the Nylon-66 Plant, the Municipal waste dumped at Kadamba Plateau, Water Pollution, Hazardous Industries,Afforestation, prevention of killing of wildlife, cutting of hill sites and filling of Khazan Lands. Since 1966 to 1987, for almost 21 years, participated in all the agitations for getting the Official Language Status for Konkani Language and Statehood for Goa. Represented Goa in SAARC Conference on Women in New Delhi in 1995 and the Third Global Conference of Women in Politics and Governance in Manila, Philippines in October 2008, organized by the Centre for Asia – Pacific Women in Politics (CAPWIP) Ex- Chairperson of Kadamba Transport Corporation Ltd.
Special Interest
Helping the downtrodden masses of Goa
Sports Activities and Membership of Clubs
Chairperson of Goa Amateur Boxing Association.
Countries Visited
Australia, England, Nepal and Singapore and Philippines


Speech On Financial Statement 2019-20