Infrastructure
The New Assembly Complex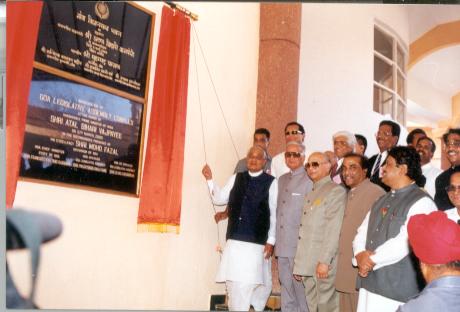 The project was executed under the supervision of PWD Officers. The efforts of several technicians and workers materialized and the complex was completed on beginning of 2000.
This prestigious Goa State assembly complex at Porvorim Bardez Goa was inaugurated at the hands of Hon'ble Prime Minister Shri Atal Bihari Vajpayee on 5th March 2000, in distinguished presence of his excellency the Governor of Goa, Shri Mohd. Fazal, Hon'ble speaker of assembly, Shri Pratapsingh Rauji Rane, Hon'ble Chief Minister Shri Francisco Sardinha, Hon'ble deputy speaker, Shri Ulhas Asnodkar and Hon'ble leader of opposition Shri Ravi S. Naik.
This project is divided into three blocks.
a) Assembly block with 1,750 sq.mt. area
b) Secretariat block with 4,868 sq.mt. area
c) VIP block with 5,268 sq.mts. area.
Similar Articles
Speech On Financial Statement 2019-20